Premium 91 Octane, no Ethanol Fuel Available! Stop By Today!
Gas Station in Fennimore, WI
For more than four decades, Speedy Mart has been a local destination for food, fuel, liquor and sundries for drivers coming through Fennimore from Werley, Stitzer, Grant County, and Montfort, WI or beyond. We're a proud pillar of the community, offering high-quality goods at affordable prices. Our store is known for integrity, dependability and a community-oriented focus, serving friends, neighbors and those just passing through!






Your Local Convenience Store & Bait and Tackle Shop
Since 1976, Speedy Mart has been your one-stop convenience store stop and liquor store for fuel, food, beer and more in Fennimore, WI. We're proud to offer an extensive collection of your favorite products at prices you can rely on—from snacks and frozen meats, to wine, liquor and craft beer in Fennimore, WI. We've also got tobacco and lottery products for your convenience. It wouldn't be Wisconsin without a few specialties, either! Our special food selection includes fresh cheese curds, delivered weekly (still squeaky!).
We're more than just a gas station in Fennimore, WI or a place to stock up on snacks. We aim to build meaningful relationships with our customers as a reliable destination in town. We operate our store with friendliness, reliability and integrity and are also a proud member of the local Chamber of Commerce. Count on us to deliver top-notch service and bring you the convenience you're looking for.
We promise you'll go out of your way to come back to us, whether it's to fill up your tank, grab fresh bait or treat yourself to a snack
We are also a liquor store, selling cigarettes and liquor at affordable prices! We aim to keep our prices as low as legally possible and consistently inform our customers of deals, rebates and more.
Need last-minute cookout supplies! We sell a variety of quality frozen meats from brands like Weber, as well as propane and all your favorite snacks and chips.
We're the only branded (Mobil) fuel seller in Fennimore, meaning you're getting premium gasoline options from a trusted name brand, instead of general fuel mixtures.
We offer three cents off fuel prices to anyone paying in cash! Fill up for less when you choose Speedy Mart.
We're known for our outstanding dedication to customer satisfaction and we aim to always provide you with a superior standard of product and service.
We also offer a fully handicapped accessible restroom.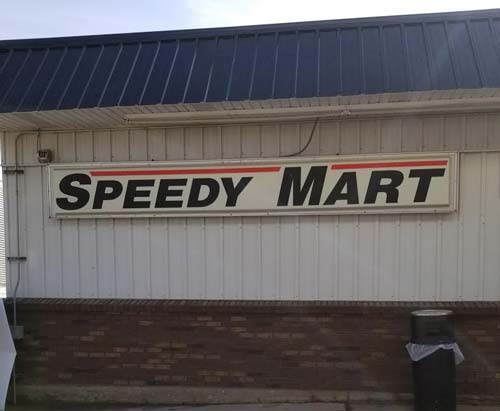 If you're driving through town, we're the perfect place to gas up
Our pumps include both gasoline and diesel fuel from Mobil. If you pay for your fuel with cash, rather than card, we offer a 3 cent per-gallon discount. We've also got roadside essentials, including anti-freeze and coolant. Or, if you're heading to the Mississippi or Wisconsin River to do a little fishing, be sure to stop by our bait and tackle shop. We offer fast service with a smile!
On your way to any of the following locations? Be sure to stop in to supply your trip:
Boscobel, WI
Dodgeville, WI
Lancaster, WI
Montfort, WI
Mt Hope, WI
Platteville, WI
Stitzer, WI
Werley, WI
Grant County, WI
Wyalusing State Park, WI
Mobil Rewards Card Available!