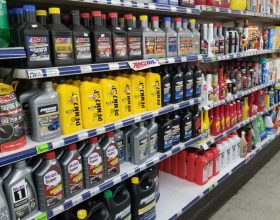 Speedy Mart is a convenience store in Fennimore, WI, offering a range of affordably-priced products. Whether you're stopping in for a six-pack, picking up a few snacks for the road, looking for Weber Meats, or filling up an empty propane tank, we welcome you. We'll make sure you've got everything you need before you get back behind the wheel. We offer a fully-stocked inventory of goods, including the following:
Bait and Tackle:
If you're looking for bait and tackle in Fennimore, WI, look no further than Speedy Mart! We have a range of fresh bait and various tackle in stock. No matter what you're fishing for, we'll make sure you can cast your line with confidence and reel in a keeper.
Fuel & Propane:
We sell both diesel and gasoline fuel, as well as propane. We're the only gas station in Fennimore that carries Mobil-branded fuels, so you can rest easy knowing you're purchasing a high-quality, dependable gas.
Frozen Meats:
We sell a variety of frozen meats from Weber Meats. Stop in and grab a roast or some steaks to toss on the grill or take with you on your next camping expedition. We've also got propane for the grill!
Snacks:
We carry all your favorite snacks! If you're looking for a delicious treat to bring home or enjoy in your car on your next road trip, stop by Speedy Mart. From candies and chips to cookies and drinks, whatever tickles your tastebuds, you'll find it on our shelves.
Cheese Curds:
In true Wisconsin fashion, we carry fresh cheese curds, delivered weekly. Stop by Speedy Mart for a squeaky, salty treat that's great on its own or even better when beer-battered and fried with one of our excellent craft brews.
Delta 8:
Beverages, Vape Cartridges, Disposable Cartridges. Pre-Rolls, Flower. Edibles, Topicals and Tinctures.
Delta 9:
Beverages, Edibles, Topicals, and Tinctures
Delta 10:
Dabs, Vape Cartridges, Disposable Cartridges and Edibles
THC O:
Dabs, Vape Cartridges, Disposable Cartridges, Flower and Edibles
---
To learn more about Speedy Mart and our full range of convenience products, including our beer and liquor selection, stop in today or contact us a call at 608-822-6016. We're ready to serve drivers from Fennimore, Werley, Stitzer, Grant County, and Montfort, WI.